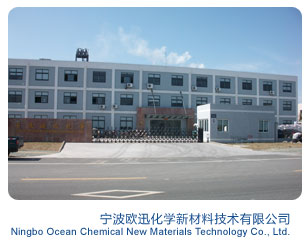 Ningbo Ocean Chemical New Materials Technology Co.,Ltd. is from ningbo industrial investment Co., LTD. In May 2008 to create state-owned shareholding enterprise, the company and the Chinese academy of science, and ShiKeYuan and zhejiang university institute of technology and a number of other research colleges and universities cooperation development advanced chemicals green manufacturing technology, engaged in fine chemical products research and development, test, production and technical promotion; At the same time as the Chinese academy of sciences LanHua fine oil chemical engineering center of the country in ningbo branch, has a ningbo municipal academician workstation, actively promote the enterprise ningbo chemical scientific research institutes at home and abroad and technical cooperation between.
The company built a domestic biggest silane oxygen amine hydrochloride production equipment. Management standard, pay great attention to the introduction and training of talents, and pay attention to protecting and improving the environment, actively adopt and developed to reduce the emissions of green chemical synthesis technology advanced, has applied for a patent for invention at home and abroad and eight, get invention patent license three.
Our company adopt standard management, pay attention to the introducing and training of talents, focusing on the improvement and protection of environment. We also actively use and develop green and advanced chemical synthesis to reduce pollution. We make sustainable development with scientific development view.  
We sincerely welcome you to visit our factory for cooperation, and business discussion. Together, we'll create a bright future!